How We Work - We Work With You
When it comes to excellence in eLearning - in fact in any learning, there are no short cuts!
Often as consultants, we are asked to apply the ADDIE Model ie. is Analyse, Design, Develop, Implement and Evaluate.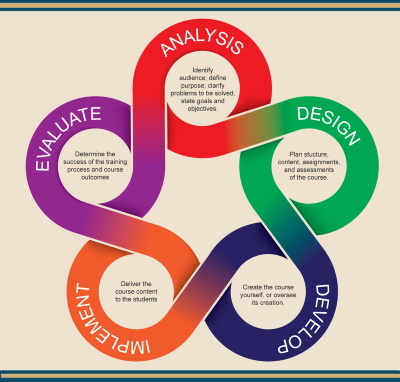 This is the standard for Instructional Design.  Within this framework, we need to craft a "learning experience" for the recipient of the training, that will bring to life the key learning objectives of the business need.
We frequently see organisations that try to force-fit the development on to a technical build requirement rather than actually satisfying the user or business need, a large part of our business is fixing situations just like this.
So when you select Engage Learning help your people learn, be sure that we will confirm your training need, before we commence design or development.  
In addition, we will always start with the end in mind.  If we can't quantify what your business will accept as evidence of success then we are not ready to begin, and neither are you!
In short, when you choose Engage Learning, you choose peace of mind - we will get the programme across the line.